Main content
ECLC Excellence in Language Study award winners graduating in May, 2022
2020 Recipient:
Ellie Coe, Russian
2021 recipient:
Landi White, Korean
2022 recipients:
Grant Lawrence Britton, Russian
Blue (Amber Jeanice) Flowers, Japanese
Hyesoo Grace Shin, Korean
East Asian Studies Alumna Mary Bohn was awarded the Pickering Fellowship.
Congratulations, Spring 2021 Graduates!
Shortly after Emory University transitioned to an online learning format due to public health concerns resulting from the COVID-19 virus, a group of Emory students gathered on the steps of the Administration to perform a song of unity.
Southeast Korean Speech Contest. Annette Prah from Emory's KRN 201 class was awarded the Best Presentation award at the non-heritage level 1 and Yuna Lee from Emory's KRN 301 class won first place at the Korean Quiz Bowl.
Congratulations Spring 2020 graduates
Emory students competed in the Georgia Association of Teachers of Japanese Speech Contest and Academic Challenge, held this year at Georgia Institute of Technology. Junior Ziqi Tiger Cai finished third in Category Two of the speech contest, and Senior Ju Mi Ha received Ganbatta recognition.
This year's ECLC Excellence in Language Study Award winners were Bryan Antonio Deleon-Vargas (Chinese), Shiyi Chen (Japanese), and Jacqueline Leigh Moses (Russian).
Congratulations Spring 2019 Graduates!
Emory students took home several prizes at this year's Japanese Academic Challenge and Speech Contest. Chloe Lee claimed the 2nd Prize in Category I (JPN 101/102); Ju Mi Ha won the 2nd prize in Category II (JPN 301-401), and Yani Emma Li received an honorable mention for her performance in Category II.
REALC hosted its Fourth Annual Undergraduate Student Research Symposium this year. Presenters were as follows:

Christina Morgan

, "How Love Challenges the Soviet Regime"

Mallory Carnes

"Creating New Spaces: Constructing and Performing Gender in Mandarin-Language Popular Music of the People's Republic of China, Post-1997"

Kim de Guzman

, "Creating Prostitutes as Abnormal Bodies during the Soviet Era"

Daniel Gursoy

, "Total War: A Historiographical Comparison of Red Army and Wehrmacht Permission Structures"

Bradyn Schiffman

, "Examining NATO's Impact on Russian-speaking Identity through Media Coverage of Latvia"

Min Jae Choi,

"The Motivations for North Korea's Provocations"

Oscar Escobar and Alex Labaziewicz,

"Parental Influence on Japanese Language Learners' Motivation and Language Acquisition"
Grace Shin
East Asian Studies, High Honors
"Family-Centrism in Korean TV Remakes and Adaptations of Anglophone Narratives"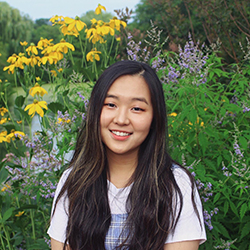 Remakes are not a new phenomenon for South Korean television. Though South Korea began remaking shows with American and British TV game and competition shows, it has become more common for producers and broadcasting companies to remake Anglophone stories into Korean dramas. In the process of transculturally remaking or adapting Anglophone narratives, producers incorporate elements that are characteristic of Korean dramas to make the story more familiar and acceptable to Korean audiences. One such element is the inclusion of family-centric themes that show the values of Korean society, including familial sacrifice and filial piety among others. Korean dramas also change details of the original plots to better emulate the family-related struggles individuals face in Korean society, allowing the Korean audience to empathize with the characters and stories more easily. These specific qualities of Korean dramas caused me to ask the questions, "Why do Korean dramas highlight or add family-centric plots and themes when remaking Anglophone television dramas or movies? And what does the inclusion of these specific themes indicate about Korean society?" Through this study, I will be answering these questions and examining the different ways these family-centric changes and additions are expressed through a textual analysis of three Korean dramas of three different genres based on Anglophone movies or TV shows: 18 Again, Life on Mars, and The World of the Married.
Dr. Jenny Medina was Grace's committee chair.
Yiqing Hu
East Asian Studies, High Honors
"To Adapt or to Resist? Three Cases of Intellectual Reform in the Early Period of the People's Republic of China"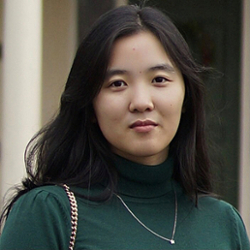 Yiqing Hu is a senior double-majoring in International Studies and East Asian Studies. Dr. Guangchen Ghen is her committee chair. She is currenting writing an honor thesis on Chinese intellectuals during the transition from Republican China to Communist China. Amid waves of radical mass political movements, intellectuals from the "old society" were subject to criticism yet struggled to find their place in the new society. They stood out as a vibrant example of how some Chinese people reacted to the dramatic change of the social, political, and cultural environment. Yiqing decides to do a comparative study on three intellectuals who experienced this era but responded to it differently—Shen Congwen, Qian Zhongshu, and Fu Lei. She aims to show how individuals stood up and tried in their own ways to hold out against the macroscopic howling storm brought about by a new era.
---
Mina Lee
Chinese, Highest Honors
"j-/k/ Sound Relationship between Chinese and Korean"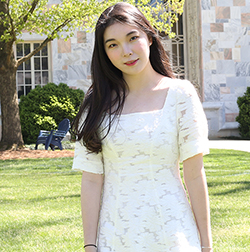 Mina's thesis focuses on the similarities in pronunciations between Chinese and Korean by comparing the phonetic spelling of Modern Standard Chinese, Middle Chinese, Old Chinese, Modern Sino-Korean, and Modern Native Korean. It mainly traces the relationship between j initial consonant in Modern Standard Chinese and /k/ sound in Sino-Korean and examines the comparisons between Modern Standard Chinese and Native Korean's sounds. Dr. Hsu-Te Cheng is her committee chair.
---
Seung Hyon Lee
East Asian Studies, High Honors
"Unruly Narrative: Negative Media Rhetoric in Contemporary South Korea"
---
Piper Spooner
Chinese, Highest Honors
"#chinesecuisine #cottagecore: Chinese Cuisine and Locality in Contemporary Social Media "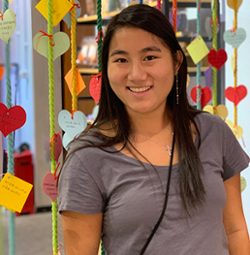 Piper Spooner is a senior majoring in Chinese Studies and minoring in Religion. Her committee chair and primary advisor is Dr. Jia-Chen Fu. Piper's thesis examines the ways that social media platforms like YouTube, Instagram, and Weibo/Twitter present and shape ideas about Chinese food and Chineseness for (media) consumers. Her analysis focuses on two well-known Chinese food vloggers: Li Ziqi (李子柒) and Dianxi Xiaoge (滇西小哥), both of whom produce beautiful videos about self-sufficient, farm-to-table, rural living and gastronomy. Piper's research demonstrates that these videos, while apparently traditionally authentic, are doing significant work to shield the physical labor, technological editing, and capitalist engagement that both women are engaged in despite their localized aesthetic. Ultimately, Piper's thesis shows that these are only two representations of Chinese food amidst a vast sea that map very specific ideas about technology, gender, consumption, and locality onto Chinese food.
Mary Bohn
East Asian Studies, Highest Honors
"Telling and Selling Your Story: Rightful Citizenship, Profit, and Belonging in the North Korean Migrant Community"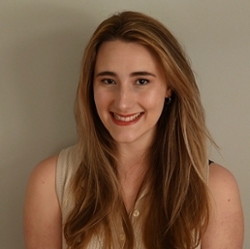 Mary Bohn is a senior majoring in East Asian Studies with a minor in Global Development Studies. Her committee chair and primary advisor is Dr. Julia Bullock. Mary's thesis explores how North Korean migrants narrate their stories of escape and discuss their background in South Korean public spaces. Mary specifically analyzes how migrants tell their stories in three public "spaces": South Korean protestant churches, a South Korean variety TV show "Now I am Coming to Meet You," and migrant-run YouTube channels. By analyzing how North Korean migrants tell their stories differently based on each space's respective setting and audience, Mary's research reveals that migrants' personal narrative storytelling functions as a tool to gain social and monetary capital in South Korea. Ultimately, Mary's thesis explores a marginalized group's strategies to "belong" in South Korean society in contestation with hegemonic discourses of citizenship and national belonging.
---
Connor Innes
East Asian Studies, Honors
"The Adaptive Nature of Traditional Korean Medicine in Atlanta and Boston"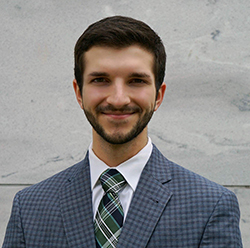 Connor's committee chair was Dr. Jia-Chen Fu. Environmental factors have historically contributed to the evolution of Traditional Korean Medicine (TKM) on the Korean peninsula, and the influence of professional and social structures distinct to America would suggest that TKM is undergoing a similar process of change in the United States. The characterization of TKM in the U.S. is largely under studied, and the previous scholarship that does exist demonstrates a medical practice that primarily serves Korean American communities. The objective of this study is to characterize TKM clinics and their practitioners through a qualitative analysis of outbound marketing materials, practitioner profiles, and practitioner interviews from the Atlanta and Boston areas. Overall, it can be seen that the practice of TKM observed in the U.S. is inconsistent both between and within clinics as practitioners have differentially appealed to patients through recognition of the professional Western and traditional medicine sectors. Thus, TKM in the U.S. is best defined broadly by its adaptive nature.
---
Suji Kim
Japanese, Highest Honors
"Medieval Japanese Aesthetics and Ideals: A Close Analysis of Tsurezuregusa"
---
Nicole Penn
Chinese, High Honors
"China's One Child Policy: Chinese Identity across Cultures"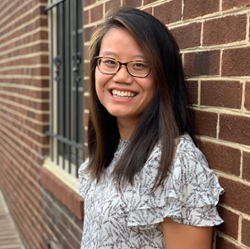 Nicole is a senior majoring in Chinese Studies. Her committee chair and academic advisor is Dr. Hsu-Te Cheng. Nicole's thesis investigates the formation of Chinese identity among Chinese adoptees, American born Chinese, and Chinese international students. Nicole is particularly interested in researching the intricacies of Chinese identity formation as it pertains to the ethnic and cultural identity saliency versus dissonance experienced by individuals identifying with the respective groups. Nicole's thesis explores these identity relationships through the administration and analysis of an independently crafted survey distributed to individuals across the United States. Overall, Nicole's thesis expands upon the historical background of China's one child policy, a nationally administered family planning policy launched in 1979, and the cultural impact experienced by Chinese adoptees who were adopted internationally during the policy's application.